Current Opportunities
🟢 Application deadline for Round 2 extended → Apply to become a Community Fellow (3 months funded) to undertake creative, critical, practice and/or research-led projects with the Sloane Lab! Applications are particularly welcomed from people of the Global Majority, disabled people, LGBTQI+ people, and women.
🟢 Expression of Interest forms are now live! Influence Sloane Lab's research and outputs by joining the newly-launched Participatory Co-design & Research
About the Sloane Lab
The Sloane Lab is one of five 'Discovery Projects' of Towards a National Collection, funded by the Arts and Humanities Research Council (AHRC).
Looking back to build future shared collections develops new technologies, including the use of artificial intelligence (AI), to open up the contents of museum and collections in ways that are more intuitive and relevant to the way the public and academics want to discover and use them. Its case study is the vast range of collections, from coins to manuscripts and stuffed animals, held in a variety of locations that are connected to Sir Hans Sloane, aiming to bring segments of these together online for the first time. Beyond the technological advances the Sloane Lab aims to enrich debate on issues such as: the contested nature of museum collections, the role of digital tools in foregrounding overlooked or ignored processes, like imperialism, colonialism, slavery, loss and destruction, that have shaped the UK's national collections until now.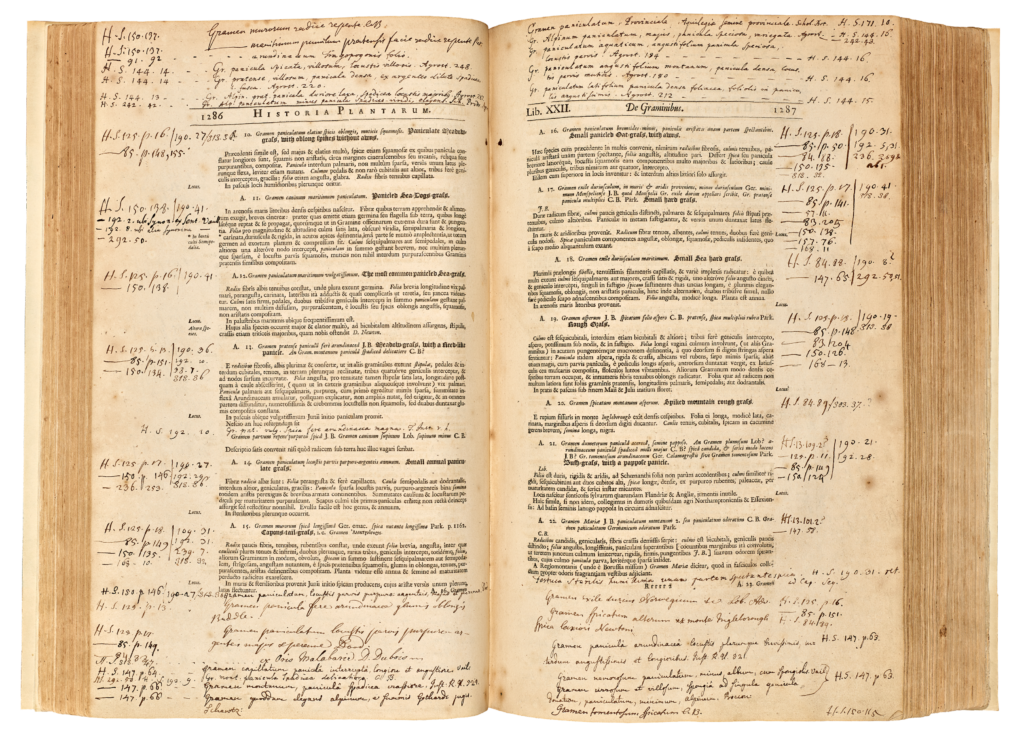 About Sir Hans Sloane
During his long life, Sir Hans Sloane (1660-1753) amassed an immense and diverse collection, perhaps the most significant of the early modern period. Assembled from c.1680s onwards, it included natural history and pharmaceutical objects, as well as books, manuscripts, prints, drawings, coins and other objects from across the world. The collection was built through commercial transactions, as well as personal favours and gifts. Sloane was able to finance his collecting practice over time through means that included his gains from Transatlantic Slavery, including investments in private companies such as the Royal African Company, and profits from plantations in Jamaica, built on the forced labour of enslaved people via the inherited wealth of his wife, Elizabeth Rose. Other income sources included the substantial sums he earned as a society and royal physician, through rent collected on land he owned in London, and salaries from public offices.
The collection's assembly also depended on a vast network of individuals, up and down the social hierarchy and across different cultures, many of whom were part of a global trade of goods and people. Similarly, Sloane employed many individuals to help him catalogue the different parts of his collection in more than 40 manuscript catalogues. These handwritten lists include numbered object descriptions, which sometimes put each item in context, sometimes giving details of when, where and how they were acquired. Considered to be encyclopaedic, this collection was Sloane's attempt to encompass the world and its knowledge. To collect the world was to know the world, and knowledge meant power. The knowledge structures, such as naming, classification and cataloguing systems for different types of objects, that Sloane and others produced at this time through their collecting practices, often systemically silenced the voices and methods of knowledge production of people and cultures that were 'collected'.Thus, the Sloane Lab project does not view the task of reassembling Sloane's collection, and information about it in the public space, as a technical task only. It rather seeks to create connections between collections in order to critically assess and redress the knowledge structures it establishes and avoid perpetuating the problematic aspects of its origins. Its central purpose and mandate are to explore how digital platforms can draw attention to problematic aspects of our shared cultural heritage and respond to new questions about such a vast and varied collection. More information about the Sloane Collections is available here.
The Sloane Lab Framework
Find out about the infrastructure and expertise of the project, including policy-based recommendations, white papers, best practice reports, methods, and approaches to automating semantic and structural annotation of digital cultural heritage.
The Sloane Lab Knowledge Base
Currently in development, the Sloane Lab Knowledge Base will allow everyone to discover – through a rich interconnected knowledge graph structure – Sloane's vast collection which includes natural history and pharmaceutical specimens, books, manuscripts, prints, drawings, coins and other objects from across the world.
Participatory Co-design & Research
The participatory element is at the very heart of the Sloane Lab, ensuring that multiplicity of interpretations and contextualisations of the national collection can be intertwined in machine actionable form. Participatory workshops will be taking place regulargy throughout the project's 3-year duration and will be announced on this website.